Marina Caneve Are They Rocks or Clouds? (2019)
Are They Rocks or Clouds? is a multifaceted photographic project that is based on the hypothese of the occurrence of a huge hydrogeological catastrophe in the Dolomite Mountains in Italy.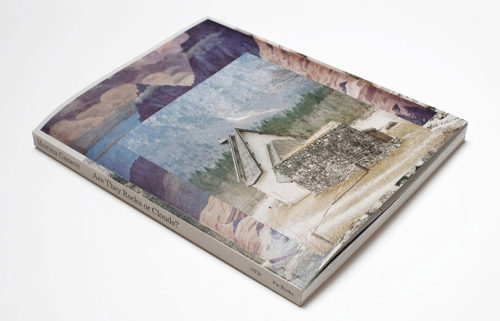 Facing this idea Caneve was not moved by a necessity to document any catastrophe in its occurrence, either to celebrate the beauty of the mountains' environment.
Hydrogeological risk for the mountains, such as climate crisis elsewhere, has become a prominent issue, which one can hardly imagine if not after something catastrophic happens. Therefore Marina Caneve builds a scenario for an environmental catastrophe to happen, through blending her research and archival footages, texts, and her own photographs. Caneve also questions the structure of our knowledge on mountainous areas which could benefits greatly if we allow different perspectives: from historical material, technical knowledge, an anthropological vision and of the inhabitants of the area themselves.
The project lacks a straight narrative, its layout (in the book or in exhibitions) constantly introduces deviations – used as a metaphor of the layering of rocks which constitutes the inner structure of mountains, thus showcasing their vulnerability.
Marina Caneve (b.1988 Italy) is a photographer exploring how our knowledge is shaped. Her work was exhibited internationally and since 2019 she teaches at the Master IUAV in Photography. In 2018 she was awarded with the Giovane Fotografia Italiana Award at Fotografia Europea (Reggio Emilia) and Lesley A. Martin awarded her book 'Are They Rocks or Clouds?' for the Cortona On The Move Dummy Award. The photobook was published by Fw:Books. In 2019 she was commissioned by MUFOCO, the Italian Ministry of Culture and the National Mountain Museum. She is co-founder of CALAMITA/À.
Instagram: @marinacaneve
Website: www.marinacaneve.com